Meet Your Specialist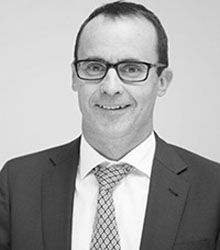 Ear, Nose and Throat Specialist
FRACS, DIP ANAT (ASANZ), MBBS (Melbs)
Speaks English
Mr Patrick Guiney completed ENT training in Melbourne in 1998. He undertook further subspecialty training in Head & Neck Oncology at The Royal National Throat, Nose and Ear Hospital, London from 1999-2000.
Mr Guiney has been in private practice in the Eastern Suburbs for 20 years, the last 16 years as a founding member of Ear, Nose and Throat Victoria and have had a public appointment at Box Hill Hospital since 2004. I enjoy a full range of adult and pediatric ENT practice.
Beyond his day to day practice, he has a particular interest in training and education. Commencing as a surgical supervisor in 2010, I was subsequently a member of the Australian Board of Training for Otolaryngology/ Head and Neck Surgery (RACS) from 2013 until 2018. In 2020, he was appointed to the RACS Court of Examiners (Otolaryngology).
Outside of the office, he enjoys a wide range of sporting activities although with an increasing reliance on ice-packs and anti-inflammatories.
Areas of interest:
Adult & Paediatric ENT Surgery
Head & Neck Surgery
Parotid and Thyroid Surgery
Upper Airway Obstruction